What are the benefits of WOGA ?
Effective deep muscle training through instability
Stress reduction, balance for body & mind
New strength for your body
More flexibility
Train in harmony with the elements
Group fun (up to 8 participants)
stay in the present !
Easy to learn for everyone!
No yoga or SUP knowledge required!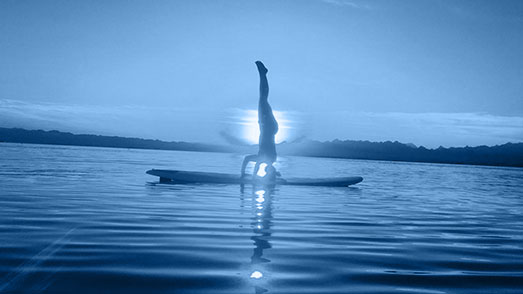 Testimonials
Loved my WOGA! The rhythmic waves make the experience challenging but add an element of focus. Julia makes it fun and rewarding. I've done it for the last 3 years now and it's always one of my favorite parts of Robinson.
Danke für die tolle Erfahrung, liebe Julia. Deine WOGA-Stunde war großartig!
...a fun experience and great instructor. Would definately do it again. Practicing yoga on water, early in the morning at the end of October with the sun shining in your face...one of my favorite holiday moments.
Great experience and lots of fun on the waves
You want to stay updated on all news around WOGA the sup Company?.
It's always possible to unsubscribe
Sign up now for the WOGA Newsletter ( in german ) !
[tcb-script]function loadjQuery(e,t){var n=document.createElement("script");n.setAttribute("src",e);n.onload=t;n.onreadystatechange=function(){if(this.readyState=="complete"||this.readyState=="loaded")t()};document.getElementsByTagName("head")[0].appendChild(n)}function main(){var $cr=jQuery.noConflict();var old_src;$cr(document).ready(function(){$cr(".cr_form").submit(function(){$cr(this).find('.clever_form_error').removeClass('clever_form_error');$cr(this).find('.clever_form_note').remove();$cr(this).find(".musthave").find('input, textarea').each(function(){if(jQuery.trim($cr(this).val())==""||($cr(this).is(':checkbox'))||($cr(this).is(':radio'))){if($cr(this).is(':checkbox')||($cr(this).is(':radio'))){if(!$cr(this).parent().find(":checked").is(":checked")){$cr(this).parent().addClass('clever_form_error')}}else{$cr(this).addClass('clever_form_error')}}});if($cr(this).attr("action").search(document.domain)>0&&$cr(".cr_form").attr("action").search("wcs")>0){var cr_email=$cr(this).find('input[name=email]');var unsub=false;if($cr("input['name=cr_subunsubscribe'][value='false']").length){if($cr("input['name=cr_subunsubscribe'][value='false']").is(":checked")){unsub=true}}if(cr_email.val()&&!unsub){$cr.ajax({type:"GET",url:$cr(".cr_form").attr("action").replace("wcs","check_email")+$cr(this).find('input[name=email]').val(),success:function(data){if(data){cr_email.addClass('clever_form_error').before("<div class='clever_form_note cr_font'>"+data+"</div>");return false}},async:false})}var cr_captcha=$cr(this).find('input[name=captcha]');if(cr_captcha.val()){$cr.ajax({type:"GET",url:$cr(".cr_form").attr("action").replace("wcs","check_captcha")+$cr(this).find('input[name=captcha]').val(),success:function(data){if(data){cr_captcha.addClass('clever_form_error').after("<div style='display:block' class='clever_form_note cr_font'>"+data+"</div>");return false}},async:false})}}if($cr(this).find('.clever_form_error').length){return false}return true});$cr('input[class*="cr_number"]').change(function(){if(isNaN($cr(this).val())){$cr(this).val(1)}if($cr(this).attr("min")){if(($cr(this).val()*1)<($cr(this).attr("min")*1)){$cr(this).val($cr(this).attr("min"))}}if($cr(this).attr("max")){if(($cr(this).val()*1)>($cr(this).attr("max")*1)){$cr(this).val($cr(this).attr("max"))}}});old_src=$cr("div[rel='captcha'] img:not(.captcha2_reload)").attr("src");if($cr("div[rel='captcha'] img:not(.captcha2_reload)").length!=0){captcha_reload()}});function captcha_reload(){var timestamp=new Date().getTime();$cr("div[rel='captcha'] img:not(.captcha2_reload)").attr("src","");$cr("div[rel='captcha'] img:not(.captcha2_reload)").attr("src",old_src+"?t="+timestamp);return false}}if(typeof jQuery==="undefined"){loadjQuery("//ajax.googleapis.com/ajax/libs/jquery/1.4.2/jquery.min.js",main)}else{main()}[/tcb-script]E-Mail* [tcb-script src="https://www.google.com/recaptcha/api.js" async="" defer=""][/tcb-script]Anmelden[tcb-noscript]
www.CleverReach.de
[/tcb-noscript]